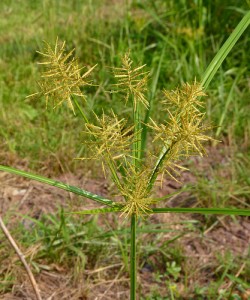 If you notice tall plants with yellow tops popping up in your lawn, you may have an invasion of yellow nutsedge (Cyperus esculentus). At first glance it looks like it might be part of the Poaceae (grass) family, but it is really in the Cyperaceae (sedge) family.
While in essence a weed is a plant growing where you do not want it (i.e. useful plants like blackberries grow rampantly in the Pacific Northwest), there are some plants that are regarded as harmful by all and truly earn the label of weed. Yellow nutsedge certainly falls under this category. It can grow faster and taller than your grass will, becoming a competitor for water and nutrients in the soil. It is also not as dark as your grass, so will stand out and destroy the uniform look of your lawn. The tubers they produce can last for years and can resprout several times.
This relative of the papyrus plant is very difficult to completely remove from your lawn. It forms many tubers under the ground that can sprout after you have removed the original plant. It can also produce new plants through rhizomes. 
You will need to try and stay on top of the problem and remove any new plants as soon as you can after they sprout. This will help lessen the productions of tubers over time. It will also slowly starve the present tubers as they will use up energy each time they produce a new plant.
You can also improve soil drainage as much as possible since this plant does very well in wet conditions and has a harder time becoming established in drier circumstances.
Unfortunately, yellow nutsedge does not always respond well to herbicides, though they can help Only some of the chemicals that are deemed effective are available for consumers, so contact us and we can help you spray this weed at the proper time for best results.
Have you had a problem with yellow nutsedge in your lawn? How did you finally get rid of it?
Image by Dendroica cerulea under a Flickr Creative Commons Attribution License