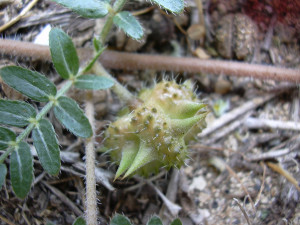 I have had the very unpleasant experience of stepping on the fruit of the puncturevine (Tribulus terrestris).  This weed produces an abundance of seed pods that are covered with very sharp spikes. They are so sharp, in fact, that they have the ability to embed themselves into your clothes, shoes or the tires of your vehicle.
Other names for this species include puncture vine, caltrop, goathead, devil's eyelashes, tackweed, cat's head, bullhead, devil's weed and devil's thorn. Some people say that it offers benefits for improving fertility.
What Makes It a Weed?
As I have mentioned before, the simplest definition of a weed is a plant that has started growing where you do not want it. You definitely would not want to come across this species in your garden by accident! Weeds are often very prolific in their seed production and the puncturevine is no slacker; each plant can produce up to 5000 of these seeds in just one growing season. They harden as they age and are quite painful when you accidentally step on them or otherwise come into contact.
Each plant can quickly spread a few yards away from its base. It acts like a groundcover since it forms into a low mat.
How Can I Get Rid of Puncturevine?
You generally do not need to apply chemicals to control this plant in your garden unless it has been allowed to spread profusely. It reproduces by seeds, so you want to remove the plant when it is young and before it has a chance to start fruit production. This plant has one tap root (one long root that goes down) and you can kill the plant just by removing it. You also want to carefully remove any seed pods that are present on the ground.
Have you come across puncturevine in your garden? How did you get rid of it?
Image by Starr Environmental under a Creative Commons Attribution License