Thinking about planting bulbs, but not sure what kind you want? Any of these choices will enhance your garden with breathtaking beauty and radiance next season. Mix them up for an unforgettable flower display!
Tulip: Looks great when mixed with annuals or perennials.
Ranunculus: Peony-like blooms are 3" o 5" across.
Daffodil: Great for cut flowers. Deer resistant.
Iris: Comes in purple, blue, mauve brown, orange, yellow and white.
Ipheion: Easy to grow, with small, light-blue blooms.
Anemone: Single or double blooms with contracting center color.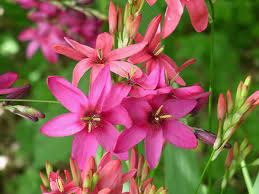 Ixia: Tall flowers that look best in groups of 25 or more.