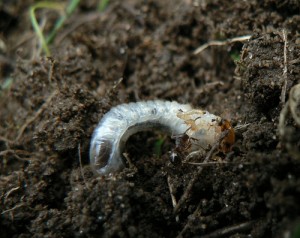 There are several reasons why brown spots start to develop in your yard. One of the most common problems found is the grub. These baby beetles can wreak havoc if there are many of them, so it is important that you start treating the grubs in your lawn once you determine the problem is severe enough.
Grubs are the larval stage of scarab beetles. The adults lay their eggs in the soil. The grubs grow under the surface of your soil and chomp away at the grass roots. If they are present, you will be able to peel away the grass as if it were a carpet. Grubs curled up into a C-shape will be visible. Count how many are present to determine the extent of the problem. As the PennState College of Agricultural Sciences mentions, you should treat for grubs in the lawn if you have 5-10 or more grubs per square foot.
If you are willing to let your grass go dormant for a bit in the middle of summer, this may kill the beetle eggs and stop the infestation. However, many people do not want to have an unattractive brown yard, so treatment is required. Pesticides like imidacloprid are applied in the later months of summer to kill off the larvae. Other treatments like predatory nematodes and milky spore may also be effective in controlling the grub population.
If you think that you may have problems with grubs in your lawn, give us a call. We can assess the situation and rule out any other problems. We can also apply the proper treatments to help banish those pesky grubs.
Image by memotions under a Flickr Creative Commons Attribution License