When it comes to the sun, it's definitely possible to get too much of a good think. Without enough shade in your yard, the amount of time you get to spend enjoying your outdoor living space is going to be limited.
OPTIONS FOR CREATING SHADY AREAS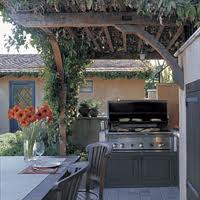 One obvious way to bring shade to your yard is to plant trees, such as oaks and maples, which will provide ample shade once they've had a chance to grow. Of course, that's not going to take care of your problem right away.
If you're looking for a quick fix, a table/umbrella combination or an awning can be added to your existing patio or deck. Or, you might even consider installing a permanent wooden gazebo if you have the available space in your yard.
For a more natural-looking shade source that blends in better with your landscape, a vine-covered trellis or pergola makes an excellent choice. Installed over a patio or seating area, this wooden latticework structure will provide beautiful shade and shelter once the vines get established.
The great thing about vines is that they can flourish in very narrow spaces. Plus, they can grow in only half a season, rather that the many years it takes for a tree to reach full size. There are plenty of vines to choose from. It's simply a matter of matching the plant to your needs and tastes and growing conditions. Morning glory, grapes, hardy kiwi, rose, clematis and wisteria are all good to work with.
No matter what type of shade source you chose, you'll be enhancing the looks, functionality and value of your landscape. It's definitely an investment worth making.