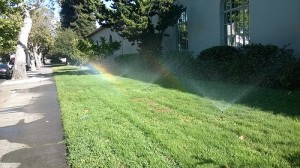 You usually do not need to water your lawn more than a couple of times a week for proper growth. Sometimes, however, it can be beneficial to do a short syringe cycle in the hottest part of the year, to combat patch disease, and when starting or renovating your lawn.
As a general rule, the ideal time to irrigate your yard is in the early morning hours. If you try to do it in the middle of the night, the water stays on the blades longer and leaves them susceptible to fungal diseases. If you were to water in the middle of the day, the hot sun will evaporate much of the moisture before it really has a chance to reach the roots.
It's Getting Hot, Hot Hot
When it is really hot and your lawn is showing signs of stress (i.e. turning brown, though you will need to rule out other causes like insects), it can be helpful to do a short irrigation period called a syringe cycle. You do not need to worry about the fact that it is not going to reach the roots as its purpose is to protect the blades from the worst of the heat.
Fighting Against Patch Disease
If you are battling a disease like summer patch, Iowa State University Extension and Outreach advises that performing syringe cycles to reduce stress in your yard can help defeat this problem.
Keeping New Grass Alive
When you first add seeds or sod to your yard, perform extra syringe cycles each day so that they do not dry out. This is essential since the plants have not had a chance to properly put down roots and can die off quickly. Once the roots have become established, you can create a standard watering schedule.
How often do you syringe your lawn?
Image by ThatRamenQueen under a Flickr Creative Commons Attribution-ShareAlike License