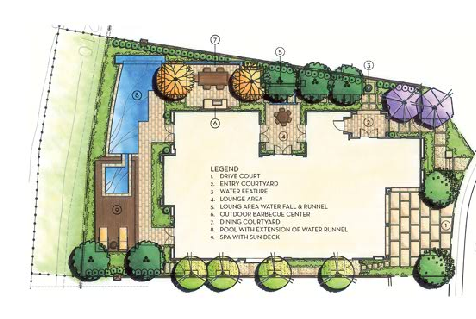 This time of year is when I like to daydream and think about the coming gardening season. It is lovely to take a day and work on planning your garden out properly so that you can make the right choices for new plants and keep your landscape beautiful.
Three Basic Steps for Planning Your Garden
Start by Drawing Out Your Current Garden on Paper. This step will help you visualize what can be done. Measure out your garden and draw your plan to scale to make sure that all of your new plants and other features will fit in properly.
See What Improvements Can Be Made. Are there spots that are looking empty, perhaps where plants may have died in the previous season? Do you need to move plants around? Would you like to add any new hardscape features like a pathway or patio? If you use tracing paper, you can overlay it over your design to get an idea of what different possibilities could look like.
Use Garden Catalogs and the Internet to Consider Plant Choices. If you have identified that you might want to add some new plants, take a trip around the Internet or thumb through some garden catalogs. Know what your USDA zone, sun availability and soil pH levels are so that you can make good choices. Design based on the mature size, not the smaller versions that are cheaper to buy. Consider the plants around it so they don't receive too little or too much sun.
While there is much more to the art of garden design, you will have a greater chance of creating a beautiful landscape if you start out with these three steps. Call us if you would like help in this process.
Have you planned your garden on paper before? Did it help?
Image by Landscape Design Advisor under a Flickr Creative Commons Attribution-NoDerivatives License