December 2013 has certainly been a little more "white" than we expected.  In preparation for the winter months, have you:
1) Prepared your broadleaf evergreens for the harsh winter winds and temperatures?
Your broadleaf evergreens prefer a winter coat for the winter. This can be accomplished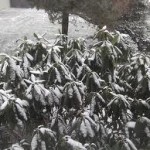 by wrapping the shrubs/trees with burlap….or  a more modern and esthetically pleasing technique is spraying your shrubs/trees with an anti-desiccant.  Some type of winter protection will help protect your shrubs/trees from drying out and burning over the winter.
2) "Winterized" your lawn care equipment?
It's simple…..Change your engine oil first.  If you want to get a jump on the spring season, you can sharpen any blades your equipment may have.  Pop in a new air filter (and pre-filter if you have one) and check/change the fuel filter.  Then,
pour some fuel stabilizer into the fuel tank and run your engine (to get the stabilizer into the fuel lines).  If possible, shut off the fuel switch and let your engine run "out of gas" until it stalls.  Done!
3) Prep'd your snow removal equipment for the snowy months?
Snow is coming….get the snow blower out of the shed.  Check your engine oil…is it full? Is the oil clean?  Turn on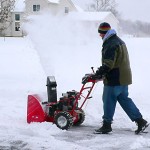 the fuel switch and start the engine.  If you prepared your engine properly at the end of the winter last year…you should have no problem starting the engine up.  Lastly, check linkages, chains, any other moving parts.  Make sure they are functioning properly too.