Now that the winter is approaching and the temperatures are plummeting lower and lower everyday, it's time to winterize your lawnmower.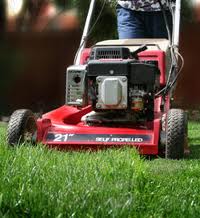 Before conducting these procedures make sure to take safety precautions. If your follow these tips your lawnmower should start up usually next season when it is needed.
Steps towards the winterization of your lawnmower:
Remove the gasoline from the engine. You can do this by siphoning the gasoline out and putting it in a container that will safely store the gasoline.
Then run your lawnmower until the remaining gasoline is completely used and the engine automatically stops.
Next, drain the gearbox oil and crank case oil. When disposing these oils make sure you do not dump it in a sewer or drain, instead consult the municipal authorities so that it may be properly taken care of.
Apply lubricating oil and then crank up the engine using the rope so that the piston and crank shift is lubricated. Make sure to remove the spark plug first!
Gloves are suggested for the rest of these steps; turn over the engine and clean remaining grass clippings and debris off of it. Remove any remaining debris that could be caught in between the body and engine.
Using a piece of steal wool clean the underside areas of your lawnmower. Apply WD-40 to the cleaned areas for protection.
After these steps remove the air filter and the oil filter. If you have a paper air filter it will need to be replaced but if not then you may clean it normally. You can put your new air and oil filters back in your lawnmower now so you don't forget or you can do so in the beginning of next season.
Fill the tires with air and move your lawnmower over to storage for the winter.
If these simple precautions are taken your lawnmower will have a better chance at working next season when you'll need it! Good luck!