As the nights grow cooler this fall, there's no need to move the party indoors. There are several options for keeping things warm and cozy outside, well into the night.
Patio Heaters
You're probably most familiar with free- standing patio heaters, which are generally about 8' tall, though table-top versions are also available. A propane gas tank concealed in the base usually fuels these heaters, but there are also natural gas and electric models depending on your needs and preferences. A good patio heater will enable you to regulate the amount of heat given off. For a reasonable price, you can purchase one that will warm an area 20' in diameter pretty reliably.
Fire Pits and Fireplaces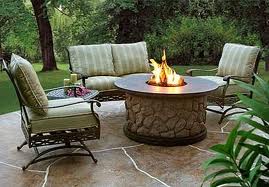 There's something to be said for burning wood outdoors. Cast-iron fire pits with wheels can easily be moved out of the way when not in use, or you can have a pit dug into the ground if you'd like something more permanent. For a more formal look, consider a brick, stone or concrete fireplace with a venting hood, shelves and even storage space for wood. If you do go with a wood-burning option, make sure there is plenty of space between the fire source and the seating for both comfort and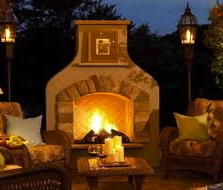 safety.
Don't Forget the Lights!
Regardless of the temperature outside, proper lighting is essential for extending the use of your patio into the nighttime hours. Low-voltage exterior light fixtures can provide ample illumination to help you and your guests move about safely. Plus, the low voltage requirements won't drive up your electric bill.