When it comes Holiday Wreaths there are many different variations that make beautiful, festive decorations.  Depending upon what look you are searching for, just a few supplies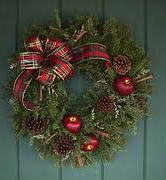 are necessary to make a homemade, one of a kind wreath.
Traditional Greens Wreath:
Supplies:
Fresh or artificial greens (for example, pine tree branches)
 Holly Clippings: These will add a splash of color into your wreath.
 Wire coat hanger or a pre-made wreath frame.  If you chose to use a wire coat hanger, unbend it from its original shape into a circular shape. The hook can then be used to hang up your wreath when it is completed.
 Paddle wire (also called floral wire)
 Pine cones
First coil your floral wire around a section of the wreath frame. Next take 5-6 greens and bundle them together. Then take your floral wire that is attached to the wreath frame, and wrap it around the bundles tightly. Repeat this all around the wreath frame until it is completely covered with branches. Make sure to cover the stems when adding each bundle. Once you've completed your circle with branches, twist the excess wire around the wreath, trim it, and then tuck it under.
When adding the pinecones, wrap the wire around the base of the cone and make sure to leave at least 6 inches on each side. Then place the pinecones where u desire and secure them on by winding the wire around the wreath until it's on tight. You've now completed your wreath!
Pinecone Wreath:
This wreath is a simpler wreath to make and has a unique flare to it.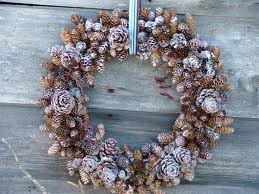 Supplies:
Pinecones (You will need about 50 pinecones of different size)
 Paint (Color of your choice or if you chose you can leave them their natural color).
 Hot glue
 Grapevine base
All that has to be done to make this wreath is a bit of gluing! First take your pinecones and use the hot glue to glue them to the grapevine base. Then allow them to dry once they are arranged how you would like them. You can then brush them with paint of your choice or spray paint. Adding a touch of glitter will add a pretty twinkle!