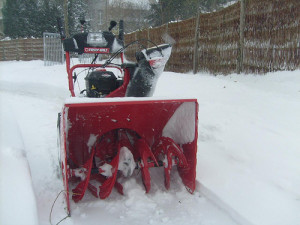 December is almost upon us and it's definitely time to make sure your snow removal arsenal is in place. There are three common ways that you can use to keep your driveaways and sidewalks clear, making it safer and easier to move around your front yard.
Shoveling
I am no stranger to shoveling snow; in college, the winter portion of my job on a landscaping crew consisted of scraping away the sidewalks (often quite early in the morning) so that students could arrive at class safely. I even did it barefoot once around my house so that I could say I did and horrify people like my Southern Californian family.
Use caution when you are using a snow shovel. This is strenuous exercise and can be quite harmful if you are out of shape or have certain health issues like coronary disease, as this Yahoo! Health article advises. They also warn that you should not shovel snow between 6 a.m. and 10 a.m. to avoid the greatest risk of heart attacks and other problems.  Don't try to be a hero by grabbing the biggest shovel possible and scooping up massive loads of snow; you will likely end up with pains and injuries that way.
You may also want to use a deicer….
Salts/Chemicals
Our condo complex keeps buckets of deicing salts around every staircase. These can be placed on the stairs and sidewalks to help with snow removal and melting the ice that accumulates and creates a dangerous situation.
You do need to use caution when using these products. Over time, the salts can collect around your plants and burn them. They are also strong enough to damage anything that is made of concrete. There are some types of chemicals that do not contain salt and will be easier on your yard.
Snowblowers
If you have a large yard and want to move snow quickly, get a snowblower. These machines are designed to blow away the snow as you push it along. They can be much quicker than a shovel or chemical. Since this is a machine being used in bad weather, use it carefully. Read the instruction manual to figure out where the dead man's switch is located to shut it down safely and quickly should something fail. Turn it off completely before you remove any obstructions. Make sure you perform yearly maintenance to keep it in working order.
What method(s) do you use for your snow removal?
Image by mueritz under a Flickr Creative Commons Attribution-ShareAlike License