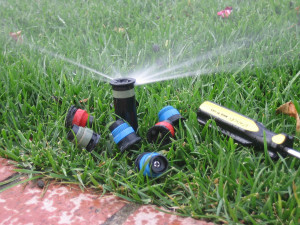 Spring is here in all its glory. Plants are coming alive again and the temperatures are creeping up. There are still days here and there that are colder, but it's definitely on the upswing. For much of spring, rain is enough to take care of all of your landscape's watering needs. However, you should work on getting your landscape ready now for the rest of the growing season.
Can You Turn It On Yet?
Even if the air temperatures are above freezing, the ground can still be frozen for a little while more. Find a spot where you can easily try to dig down and see if the soil has thawed yet. You want to be able to reach at least one foot down.
Get Your Irrigation System Back Up to Speed
You properly winterized your sprinklers last fall and shut them down, so they should be ready to go, right? The freezing temperatures in winter can be harsh, possibly dealing damage to your watering lines. There could also have been damage from snow plows or other garden equipment. Sprinkler parts also fall apart over time from normal wear and tear.
Before you turn it on, walk around your yard and physically inspect sprinkler heads, valves and other parts of your system to see if they show signs of problems. Make sure that the water pressure is not too high. According to Rainbird, a sprinklers manufacturer, this range should be within 40-65 PSI (pounds per square inch). We can help you measure this if needed and otherwise check over your system.
Turn It On Carefully
As Hunter Industries mentions, you should start turning things back on slowly. If you switch the valves on full blast, the surges can damage the pipes and cause problems. Make sure the timer settings are appropriate for the time of year; you need less water in spring than in summer, so start out lower. Once you have turned everything on, walk around again and see how the various sprinkler heads are doing. Note if there are areas that are especially wet, since this can be a sign of a leak.
Has your ground thawed out? Give us a call if you want to get your irrigation system ready to go.
  Image by Phu Son under a Flickr Creative Commons Attribution License