Fall is here…
Lawn furniture is getting put away (slowly), snow blowers are being pulled out from the sheds and sent away for a quick tune up.  People ask me, "Joe…what can you possibly be landscaping in the fall?"
Truth be told, we are busy planting lawns, installing colorful hardy mums and getting our Spring bulbs into inventory for November/December planting.
Yes…Fall Color / Spring Color.
Hardy mums offer great curb appeal to a home.  They are bright, cheerful and continue to flower right through the first frost.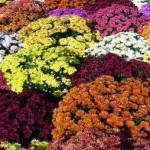 They accent halloween decorations, they are the centerpiece of Thanksgiving decorations….simply said they are just beautiful!!!
And what am I doing with bulbs you ask? Well, we install bulbs in November/December…they get cooled off and roots out during the winter months, and sure enough they welcome the spring season with a beautiful array of spring color……
You know ……Tulips, Daffodils,  Hyacinth, etc..
So just because the summer season has come to an end doesn't mean your flowers and seasonal color has to also.  Spruce up your landscape with hardy fall mums and a display of spring blooming bulbs.  Trust me….you won't regret it!