SHOW IT OFF WITH OUTDOOR LIGHTING!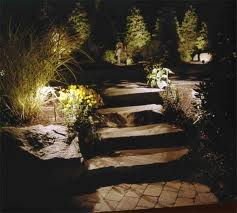 Properly illuminated, your landscape will remain enjoyable long after the sun goes down. With strategic placement, landscape lights can enhance your property's nighttime curb appeal. Plus, lighting can be used to increase both safety and security around your home.
First, you'll need to decide what functions you want your outdoor lights to serve. For example, do you want to light up a path or stairway for easier nighttime navigation? Would you like to showcase a favorite planting or fountain? Are you hoping for a dramatic and striking effect, or are you leaning towards something more subdued?
There is no shortage of choices in lighting types and designs. From simple plastic lights to fancy copper fixtures, and from buried to surface-installed packages, there are all sorts of options. Plus, with low-voltage and even solar-powered landscape lights available, beautiful nighttime illumination can be achieved without sending your electric bill through the roof.
HERE ARE SOME LIGHTING TYPES TO CONSIDER:
Up lighting/Down lighting- Lights mounted below or above a plant or object shine up or down to highlight its features.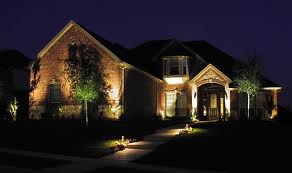 Path Lighting- Special fixtures mounted on short stakes cast pools of lights downward to light a walkway or stairway.
Backlighting- A background area is flooded with light to make objects in front of it appear as silhouettes.
Shadowing- A light fixture in front of an object illuminates it ad casts its shadow on a background surface.
Security Lighting- Floodlights mounted on poles or in trees provide broad illumination to discourage intruders.
With the right types of fixtures in the right places, your landscape can really shine!