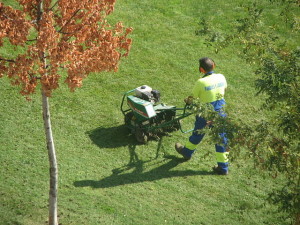 If you have walked by a lawn and seen little cylinders of grass and dirt, you may have wondered what was going on. Why would anyone want to punch holes in their grass?
This process is called core aeration and it can be very beneficial as far as keeping your lawn healthy. As grass grows, it builds up a layer of matter that is called thatch. If it becomes too thick, it can cause your lawn to not be able to receive air and water properly, stunting its growth.
Sometimes raking alone is enough to keep thatch in check, but you will likely need to aerate your lawn too. This procedure involves using a specialized machine to take out cylinders from the grass at evenly spaced intervals. Aeration opens up holes in the layer of thatch that allows water and oxygen to reach the roots easier.
Why would you want to aerate your lawn in the fall specifically? That season sees a lot of growth as plants get ready to go dormant for the winter. Performing core aeration in autumn allows the roots to spread and grow. It also allows the plants to get the nutrients that they need at this important time. Taking this step will help ensure that your next growing season goes more smoothly.
Fall is just around the corner, so please give us a call if you are ready to schedule a session of aeration for your lawn this fall.
Photo: AIREADORA 04" by Guipozjim – Own work. Licensed under CC BY 3.0 via Wikimedia Commons.