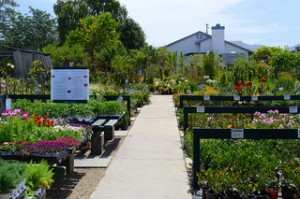 Spring is right around the corner and you may have already started planning for new landscape improvements. It's tempting to run down to your local garden center and buy any plant that catches your eye, but you must resist that urge and do your homework. Choosing plants for your garden requires attention to the conditions present in your yard.
USDA Zones
The USDA produces a map that divides locations into hardiness zones based on the average minimum low temperature each year, with 1 being the coldest and 13 the warmest. For example, Yonkers, NY is rated as USDA Zone 7a.
Each plant has a general range of zones where is it most likely to be successful. While this is not an absolute guarantee (microclimates and other factors can affect its chances in your own garden), choosing a plant that is meant for your zone helps its possibility of survival.
Plant Life Span
Think about how much work you want to do in your garden and whether you want it to change yearly.  Annuals grow for one season, then die. Biennials last two growing seasons before the end. Perennials, trees and shrubs usually live for many years. Some people like cheery annuals like pansies that brighten up your garden, but need to be replanted yearly. Perennials last longer, but may need pruning to spruce them up.
Size
When you are shopping, make sure you look at the tags to see what the expected size will be at maturity. It is easy enough to forget and buy a plant that looks like it will work in your space based on the container size at the garden center, but turns out to spread farther than desirable over the years. You don't want to have an imbalance where front plants tower over rear ones (thus hiding them) or end up with your plants becoming crowded from improper spacing
Planting Site Conditions
Plants do not all have the same preferences and needs. Look at the tag and see the sunlight requirements. Ask a garden center associate if your site has special needs. For example, clay soil, places that tend to be wet or acidity all require specific species that are able to tolerate those conditions.
Ensure Fruit Pollination
If you are trying to grow fruit in your yard, make sure you have enough plants available for cross-pollination. Some species are able to fertilize themselves, but many need a different cultivar (cultivated variety – think Golden Delicious and Fuji for applies) nearby. If you only have one plant, you may not get any fruit at all.
Choosing plants for your garden carefully will help you get the best possible look for your landscape and make it easier for them to grow properly. If you would like assistance in planning out your garden this year, don't hesitate to call.
Image by tracie7779 under a Flickr Creative Commons Attribution-ShareAlike License