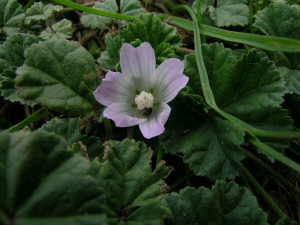 If you have noticed a plant in your lawn with crinkly lobed leaves and flowers in shades of white, pink or light purple, it may be the common mallow (Malva neglecta). This relative of hibiscus, hollyhocks, cotton and okra is one of those plants that do offer benefits (in this case, nutrition,) but are too invasive to use as a garden plant.
The common mallow can be either an annual or biennial depending on where it is growing. In general, it tends to act as more of a groundcover and stay close to the ground, but it can reach a couple of feet high if left unchecked.
How Do You Get Rid of Common Mallow?
Watch out for this weed and pull it out while it is little. You definitely want to remove it before it produces flowers and goes to seed. As the plant matures, the roots also become stronger and woody, so it will be much harder to pull them out.
Using this method will help keep this species from colonizing your lawn. This is the best way to control this weed since chemicals do not usually work very well. You can use a tool like a dandelion digger to help you get out the long tap root. If the plant has been growing for a while, it can possibly resprout if some of the root is left.
As always, keeping your grass lush and healthy is another way to help stop this weed from spreading. When plants are growing well, their roots spread out appropriately and it is harder for other species like weeds to become established.
How have you stopped common mallow in your garden?
Image by Macleay Grass Man under a Flickr Creative Commons Attribution License