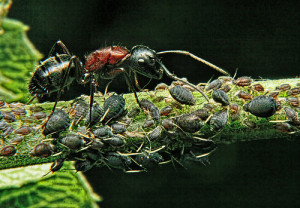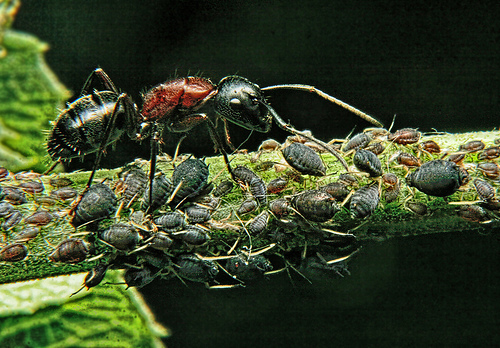 If you have ever seen clusters of pear-shaped insects on the stems of your plants, you may have an infestation of aphids. I see them on rose bushes, especially, but they may be found throughout the different areas of your landscape. They come in colors like green, pink and black.
What Problems Do Aphids Cause?
Aphids are very fond of cutting into stems and sucking out the juice from plants. This can stunt the growth of the plant. The aphids also may pick up bacteria, viruses or fungi and transfer them to other plants, spreading disease.
In the case of grass, this action can cause your grass blades to turn yellow and orange before dying. Other plants may show problems like yellowing, curling and wilting of leaves and possibly death.
They also can be problematic because of a sticky substance they expel, called honeydew. It can get onto surfaces and cause damage. When it is left on plants, the wet sugary conditions can encourage a fungal problem called sooty mold. While it is overall not too harmful in many situations, it will cause discoloration of your plants.
Why Are Aphids Difficult to Destroy Completely?
These insects can reproduce very rapidly, producing a new generation at intervals of approximately two weeks. They do not even need males to reproduce since they employ a process called parthenogenesis. In fact, aphids are born pregnant! As you can imagine, it can be hard to keep up with the pest population since even one surviving aphid can repopulate an area.
What Are Some Ways to Get Rid of Aphids?
On your smaller plants and shrubs, you can try spraying them with water to knock them off. You want to do this early in the day so that the leaves have time to dry out and avoid diseases. Insecticidal soaps may also be beneficial, as well as encouraging insects like ladybugs that feed on aphids.  If the problem is severe, lawn care companies can spray with pesticides, though this will also kill off the good insects.
You may have noticed that there are ants living near the aphids. They are protective of the aphids since they like to harvest the sweet honeydew. Controlling ants will make the aphids more vulnerable as you take measures to get rid of them.
What do you do to control aphids in your landscape?
Image by ViaMoi under a Flickr Creative Commons Attribution-ShareAlike License