When it comes to annuals and perennials they are quite similar. Each type of flower has its own characteristics. So when deciding here are some pointers:
Annuals are flowers that last for one growing season. After the first frost they are done growing. Some examples of annuals are marigolds, impatiens and petunias. Annuals tend to bloom from spring until autumn and then they are done for the season. Although they only last for one season they are sure to turn heads, they are ostentatious and a great accent to your landscape. Their colorful appeal makes them a popular choice.
Perennials are flowers that can last for a long time. They will continue to appear in your landscape year after year which can make your gardening quite simple once spring comes around. Perennials are not as bright and showy as annuals but there are still beautiful options to choose from. For example, daylilies, hosta, black-eyed Susan and peonies are well know perennials.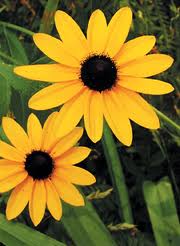 If you are baffled which type of flower you would like to plant you can always make things easy and plant both! Together they make a stunning landscape. By having both flowers you can get the extraordinary color of annuals and the convenience of perennials! Good luck!