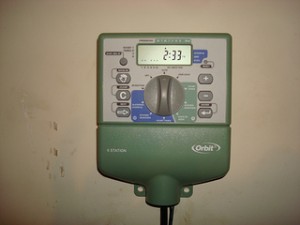 As I mentioned last week, it is time to fire up your sprinkler system. Once you have done that, you are all set for the season….right? 
Your Lawn's Needs Will Change
The amount of water that grass needs is definitely not always the same. After all, plants are more likely to experience transpiration (losing water from their leaves) and the soil becomes drier the hotter it gets. You won't need to water much during the spring, but you will need to start watering a bit more during the summer. If you do not ever adjust your sprinkler timing, the grass may get thirsty and develop problems.
However, you do not ever need to water your lawn daily. This can actually be detrimental since it encourages the roots to form and stay near the surface instead of burrowing their way farther down into the soil. As water becomes scarce, it is harder for the roots to find water and the grass suffers. Instead, plan on watering less frequently but for a longer period. This will train the roots to grow downward and your lawn will be healthier.
How much will you need? Cornell University advises that most lawns will need about an inch of water added per week. Take into account any rain that you receive and adjust your sprinklers to make up the difference. You do need to test how fast your soil can drain so you can choose a rate that doesn't leave puddles. This is called the infiltration rate and Cornell's article talks about using coffee cans to measure your rates. You can also call us if you want help in determining the proper number.
Account for Rain and Other Weather
I cringe a little inside when I see sprinklers going during a rainstorm. It is so wasteful and potentially even harmful to the lawn if it receives too much water. When a rainstorm is expected, consider turning off your sprinklers if they are on a timer. You can also buy rain sensors that will stop or delay sprinklers if it starts raining.
Remember – don't just set them and leave it the same all spring, summer and fall. Changing your sprinkler settings as needed will help keep your lawn healthy. The grass will thank you!
Image Courtesy of Homespot HQ via Flickr