When I think of a garden, I typically imagine plants first. However, there are a number of different non-living objects that you can add to your landscape to improve it. These are collectively known as hardscape.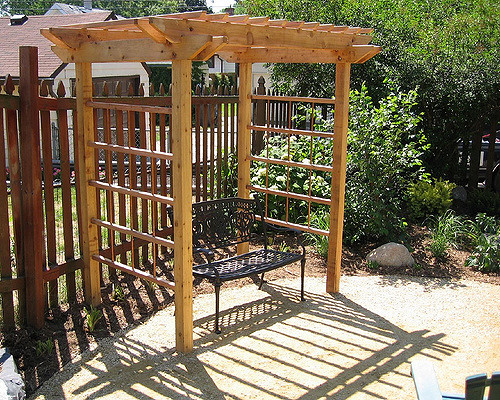 Benches
Seating can be very appreciated in your landscape, especially if it is large. This will allow people to sit and admire the beauty or otherwise rest as needed.
Curbing
We traditionally think of sidewalks when it comes to curbs, but it can also be used in the landscape to help create specific areas like flower beds.
Fire Pits, Pizza Ovens and Chimeneas
If you like the idea of cooking outdoors or sitting around a fire as part of entertaining, one of these structures may be just the ticket. They create a safer space for you to
Patios and Decks
Want to hold a gathering but not worry about your guests getting dirty from standing in the grass? Patios and decks allow you to have a solid surface that is perfect for patio tables, barbecues and more.
Pergolas, Arbors, Trellises and Other Structures
If you want to add shade to parts of your garden, these structures can be very lovely indeed. Vines like wisteria and trumpet vine can be trained to cover them, adding additional color to the landscape.
Sheds
If you have a big enough lot,. consider adding a shed to have easy access to all of your gardening tools and equipment without having to take up space in your garage.
Steps and Walkways
These are very useful for keeping the rest of your garden from trampling and allowing people to move around the spaces freely. Potential materials are concrete, wood and stone.
Water Features
Ponds, waterfalls, pools and fountains are some of my favorite types of hardscape features. Water can create a feeling of peace and tranquility in your garden. Do consider the ages of your children and their safety when thinking about adding one of these to your yard.
If you are interested in improving your garden with some hardscape, give us a call and we can help you make your landscape shine.
What hardscape features do you have in your landscape?
Image by Field Outdoor Spaces under a Flickr Creative Commons Attribution License